Professional Coaching Apprenticeship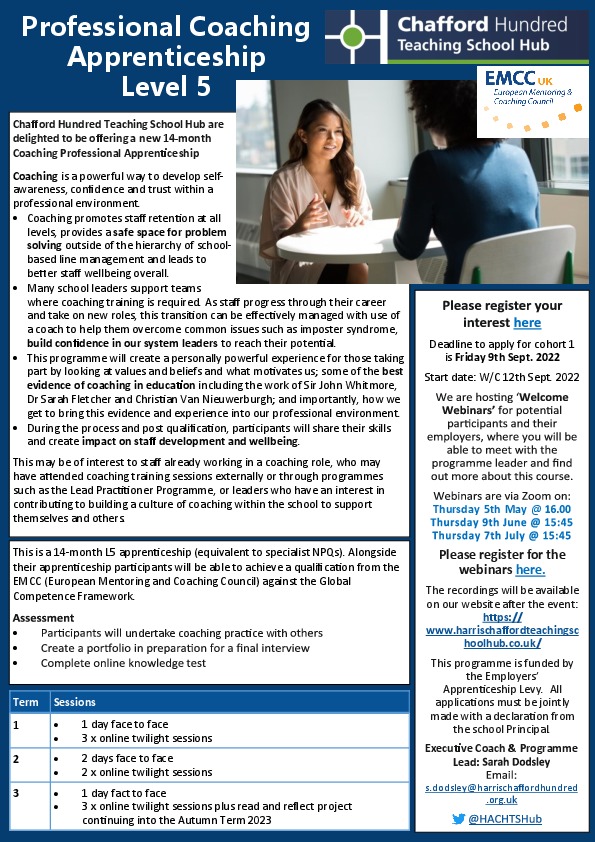 Chafford Hundred Teaching School Hub are delighted to be offering a new 14-month Coaching Professional Apprenticeship
Coaching is a powerful way to develop self-awareness, confidence and trust within a professional environment.
Coaching promotes staff retention at all levels, provides a safe space for problem solving outside of the hierarchy of school-based line management and leads to better staff wellbeing overall.
Many school leaders support teams where coaching training is required. As staff progress through their career and take on new roles, this transition can be effectively managed with use of a coach to help them overcome common issues such as imposter syndrome, build confidence in our system leaders to reach their potential.
This programme will create a personally powerful experience for those taking part by looking at values and beliefs and what motivates us; some of the best evidence of coaching in education including the work of Sir John Whitmore, Dr Sarah Fletcher and Christian Van Nieuwerburgh; and importantly, how we get to bring this evidence and experience into our professional environment.
During the process and post qualification, participants will share their skills and create impact on staff development and wellbeing.
This may be of interest to staff already working in a coaching role, who may have attended coaching training sessions externally or through programmes such as the Lead Practitioner Programme, or leaders who have an interest in contributing to building a culture of coaching within the school to support themselves and others.
Deadline to apply for cohort 1 is Friday 9th Sept. 2022
Start date: W/C 12th Sept. 2022
Register your interest via the link below:
Register your Interest for the Professional Coaching Apprenticeship
We are hosting 'Welcome Webinars' for potential participants and their employers, where you will be able to meet with the programme leader and find out more about this course.
Webinars are via Zoom on:
Thursday 5th May @ 16.00
Thursday 9th June @ 15:45
Thursday 7th July @ 15:45
Register for the 'Welcome Webinars' via the link below:
Register for the Welcome Webinars
The recordings will be available on our website after the event: https://www.harrischaffordteachingschoolhub.co.uk/
This programme is funded by the Employers' Apprenticeship Levy. All applications must be jointly made with a declaration from the school Principal.
Executive Coach & Programme Lead: Sarah Dodsley
Email: s.dodsley@harrischaffordhundred.org.uk