Leadership Conference
25th January 2022
The Applied Science of Learning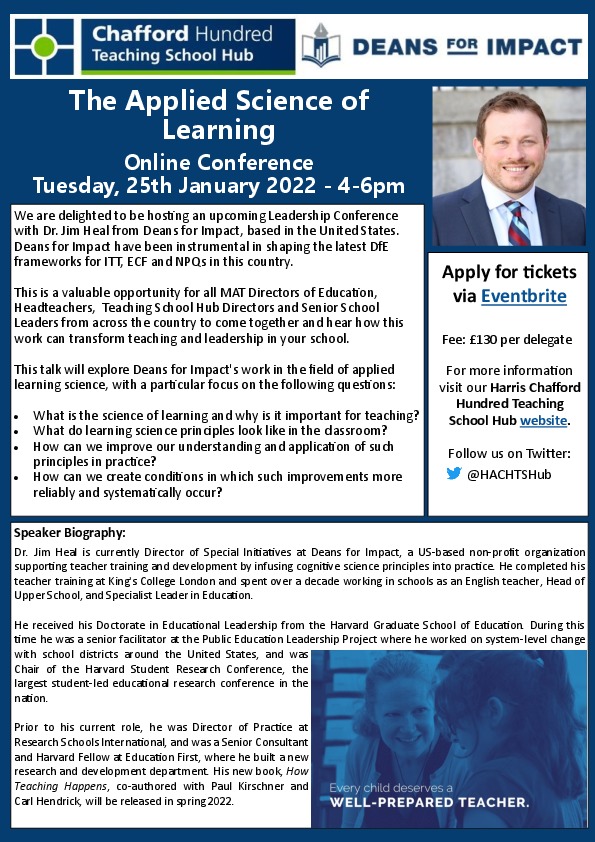 We are delighted to be hosting an upcoming Leadership Conference with Dr. Jim Heal from Deans for Impact, based in the United States. Deans for Impact have been instrumental in shaping the latest DfE frameworks for ITT, ECF and NPQs in this country.
This is a valuable opportunity for all MAT Directors of Education, Headteachers, Teaching School Hub Directors and Senior School Leaders from across the country to come together and hear how this work can transform teaching and leadership in your school.
This talk will explore Deans for Impact's work in the field of applied learning science, with a particular focus on the following questions:
What is the science of learning and why is it important for teaching?
What do learning science principles look like in the classroom?
How can we improve our understanding and application of such principles in practice?
How can we create conditions in which such improvements more reliably and systematically occur?
To book for this event please click below:
Applied Science of Learning Booking via Eventbrite
For Harris Academies, please use the link below:
Applied Science of Learning Booking for Harris Academies
For further information, you can visit the Deans for Impact website:
For additional reading, use the link below The Science of Learning:
https://deansforimpact.org/resources/the-science-of-learning/
and The Building Blocks of Effective Teacher Preparation: