Metacognition & Self Regulated Learning Programme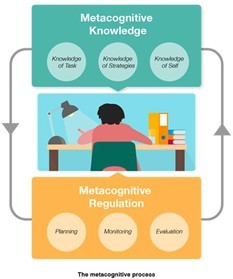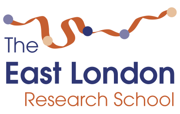 Programme Overview: The use of metacognitive strategies – which get pupils to think about their own learning – can be worth the equivalent of an additional 7 months progress when used well. However, less is known about how to apply them effectively in the classroom.
This 6-part programme aims to provide participants with this knowledge to improve teaching in their schools. Based upon the EEF Guidance Report and cutting-edge evidence, this course will enable you to make confident decisions that will help your students to become aware of their strengths and limitations and to select the appropriate strategies when undertaking a task.
Programme Outcomes:
Develop understanding of the evidence base for metacognition & self-regulation whilst exploring the relevance of this to your own setting
Explore practical resources and tools to use in school, and develop the skills and knowledge to offer in-school evidence-informed training and support
Identify priorities for your school through a self-review process and develop plans to implement evidence-informed processes, practices and programmes.
Sustain implementation of evidence-informed practices through peer review and follow-on support.
Who is this programme for?
This programme is aimed at headteachers, senior leaders and members of staff in all phases who have the influence and ability to enact change in their schools.
There will also be 3 optional bolt-on modules for participants to involve their subject leaders and teaching assistants in thinking about how to apply metacognative strategies specifically to maths, literacy and support roles.
How will the programme be delivered?
6 x 90 minute modules delivered online across two terms, plus 2 face-to-face collaborative meetings. Further details of dates, times and venues to follow.
What is the cost?
Estimated cost per school: £200
Cohort 1 (Autumn 22): Led by Unity Research School and Saffron TSH

Cohort 2 (Spring 23): Led by East London Research School and Chafford Hundred TSH

Register your school to join the partnership (and take part in any of the programmes) here.
---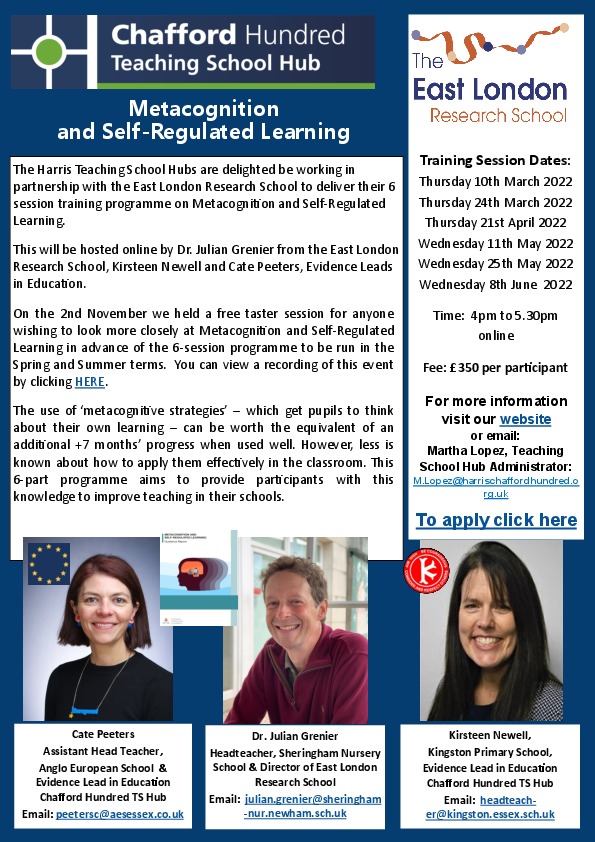 The Harris Teaching School Hubs are delighted be working in partnership with the East London Research School to deliver their 6 session training programme on Metacognition and Self-regulated Learning.
To register for this event please click below:
Training Session Dates:
Thursday 10th March 2022
Thursday 24th March 2022
Thursday 21st April 2022
Wednesday 11th May 2022
Wednesday 25th May 2022
Wednesday 8th June 2022
Time: 4pm to 5.30pm online
Fee: £350 per participant
Taster Event
We held a FREE taster event 2nd November and Cate facilitated a very interesting group discussion on this theme, using the EEF Guidance report as the basis for discussion.
This one-hour event was for anyone wishing to look more closely at Metacognition and Self-Regulated learning and served as a taster in advance of the 6-session programme.