Evidence-Informed Curriculum Development

Evidence-Informed Curriculum Development
Programme Overview: This is a newly updated EEF programme which provides participants with an evidence-informed understanding of the principles behind effective curriculum design, across all phases. Headteachers and senior leaders will explore, share and challenge teacher beliefs about learning and curriculum and come away with planning questions and tools to prompt discussion back in school.
This programme focuses on the "how", rather than the "what" - so that participating leaders are using evidence to enhance their design and implementation of curriculum according to context, tailoring it to their school's chosen content, vision and values.
The course will be co-delivered by Dr Julian Grenier, Director of East London Research School. It includes an optional module for EYFS leaders focussing on play, intentional teaching, curriculum sequencing and coherence in the Early Years.
How will the programme be delivered?
The Evidence-Informed Curriculum Development course is a blended, 9 module programme involving two full days of face-to-face learning, three 2-hour online sessions and additional one-to- one coaching with Evidence Leads in Education (ELEs) to support with implementation.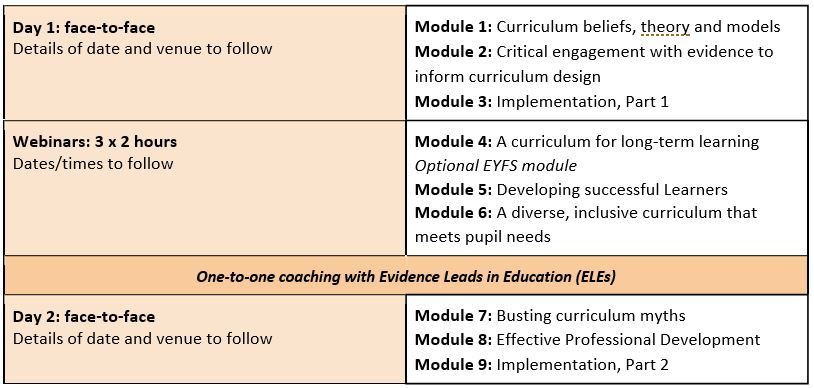 Who is this programme for?
This programme is aimed at headteachers, MAT directors and senior leaders. Please note as a 9-module course, we encourage participants to ensure they are able to commit the necessary time and capacity to fully engage.
What is the cost?
Estimated cost per school: £300
This programme is being hosted by East London Research School and Chafford Hundred Teaching School Hub. Register your school to join the partnership (and take part in any of the programmes) here.