Support for Mentors
Annual Regional Mentor Conference - 2nd March 2022
Keynote speakers:
Charlotte Raby is an Early Reading Expert and English Consultant and was a member of the DfE Expert Advisory Group on the new Leading Literacy NPQ.
In her talk Charlotte will look at the Reading Framework - Teaching the Foundations of Literacy (DfE 2021) and how this guidance impacts primary and secondary teaching.
Dr Richard Kueh HMI is the Ofsted Subject Lead for RE.
In his talk Richard will give background to the Ofsted Research Review series and will look at the big picture of subject-based curricula, what we can learn from the Research Review, and the role of mentors in developing subject knowledge for their trainees and ECTs.
Subject Forums: subject specific support for mentors and all teaching staff can be found here.
See 'Download' section below for the Conference slides.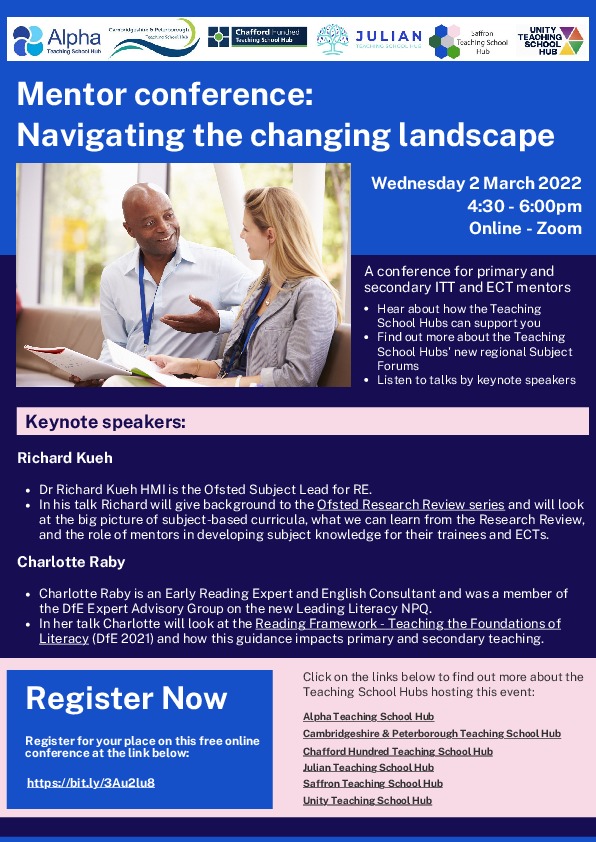 On 2 March 2022, Teaching School Hubs in the Eastern Region are hosting an online conference for mentors. This event will be hosted by the Chafford Hundred, Saffron, Alpha, Cambridgeshire & Peterborough, Julian and Unity Teaching School Hubs.
Event details:
A free online conference for primary and secondary ITT and ECT mentors
Wednesday 2 March 4:30-6:00pm
Hear about how the Teaching School Hub can support you
Find out more about the Teaching School Hubs' new regional Subject Forums
Listen to talks by keynote speakers Dr Richard Kueh and Charlotte Raby
---
Mentor Conference - February 2021
Video link:
We are delighted to have two keynote speakers;
Sam Twiselton - OBE, will speak about ensuring progression across the frameworks (ITT, ECT, ECF and beyond). Our second Keynote Speaker; Professor Caroline Daly from UCL, Institute of Education, will speak about effective mentoring approaches to ensure deep learning for both mentor & mentee. She will also look at challenging expert and novice assumptions about mentoring. You can see some of Caroline's research on mentoring here: https://www.researchgate.net/profile/Caroline_Daly6
There will also be a range of other topics such as:
Trauma Practice in Covid Times
Best Practice on How to Get the Most Out of the Mentor Meeting
The Big Picture: Mentoring from ITT to ECF